Tidy Data Tutor helps you visualize data analysis pipelines
Tidy Data Tutor lets you write R and Tidyverse code in your browser and see how your data frame changes at each step of a data analysis pipeline. (If you use Python, check out Pandas Tutor.)
Why use this tool? Let's say you're trying to explain what this code does:
library(dplyr)
library(palmerpenguins)
    
penguins %>%
    select(species, bill_length_mm) %>%
    group_by(species) %>%
    arrange(desc(bill_length_mm), .by_group = TRUE) %>% 
    slice(1)
Running this code in R or RStudio shows only the final result:

If you want to explain what's going on here, at least three things get in the way:
Only the final data frame is shown, but this single pipeline involves 5 data frames.
Almost none of the hundreds of rows in your input data made it to the end result.
You can't see how data flowed through the pipeline to form groups and produce those 3 numbers.
If you ran this same code in Tidy Data Tutor, you can teach students exactly what's happening step-by-step: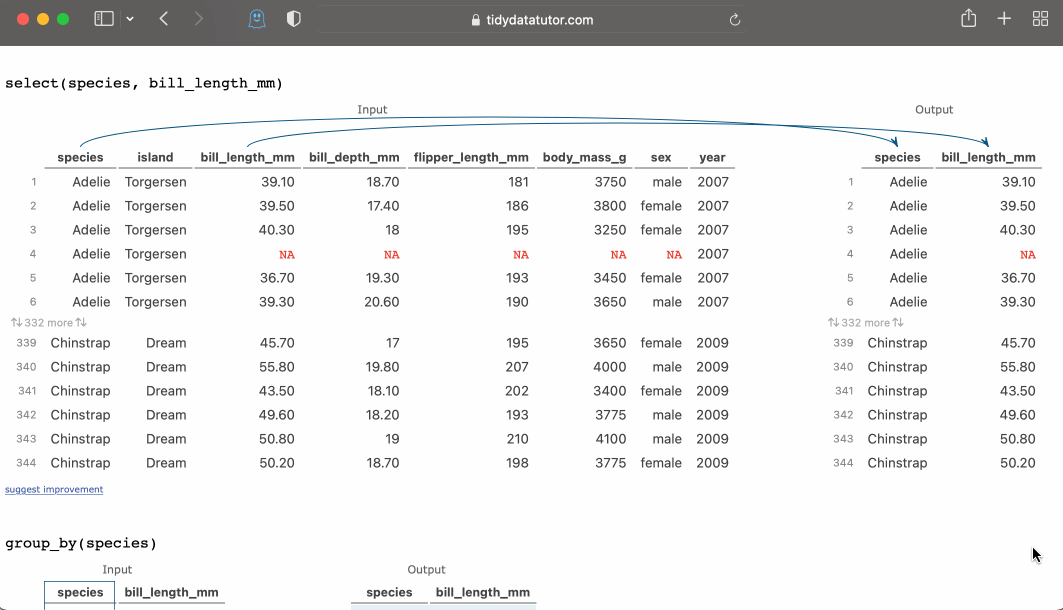 Or if you're a student, you can use this tool to explore and learn on your own. Check out more examples below: